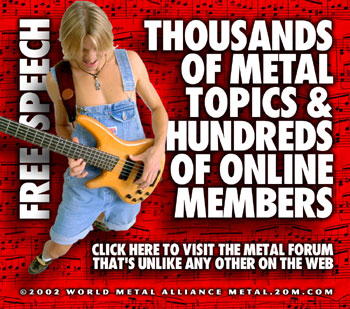 FEATURED FREE Heavy Metal MP3s:
From unsigned heavy metal bands that have promoted free MP3s in our Forum in the past:
SIERPE (from Guatemala) Download their demo tune: "Symphonic Flames"
13EVEN (from Pennsylvania, USA) Several MP3 samples available.
BYFIST Featuring Davey Lee & Nacho Vara of Seattle's REVEREND. Several MP3 samples available.
MANY MORE FREE MP3s FROM OTHER UNSIGN BANDS! Check our Unsigned Bands Board for the most current and complete listing, or to promote your unsigned heavy metal band. Also allows members to rate and review each listing!

Free Music Software, Heavy Metal Style Fonts, Themes and Games
The following links will take you directly to the download site of each of the free items listed.
Download a free drum machine with many features, including an easy to understand and attractive graphic interface.
Download a free, full-featured midi composer and editor. Allows you to compose your own midi files or edit existing midi files quickly and easily.
A great selection of free and futuristic fonts to choose from.
Free software that lets you create, edit and print guitar tablature.
Huge selection of desktop themes based on a wide range of Heavy Metal Bands.